What is full circle connectivity?
What is full circle connectivity?
An Internet Exchange (IX) is a physical infrastructure through which Internet Service Providers (ISPs) exchange traffic between Global networks. The advantages of full circle connectivity are numerous, reduced latency, bandwidth availability and economy of scale.
YYCIX and DataHive have partnered to bring this technology to Calgary businesses and hosts over thirty ISPs in the IX. This partnership provides a vital element to the Internet infrastructure enabling fast and efficient exchange of traffic amongst world peers. Multiple ISPs create the potential for technical and economic benefits to the local Internet community.
An IX connection enhances local traffic by avoiding unnecessary peering of international links, enabling substantial cost savings and significantly improving local Internet performance.
DataHive clients enjoy safe and secure privacy with a cross connect to YYCIX. An autonomous System Number (ASN) is required the IX.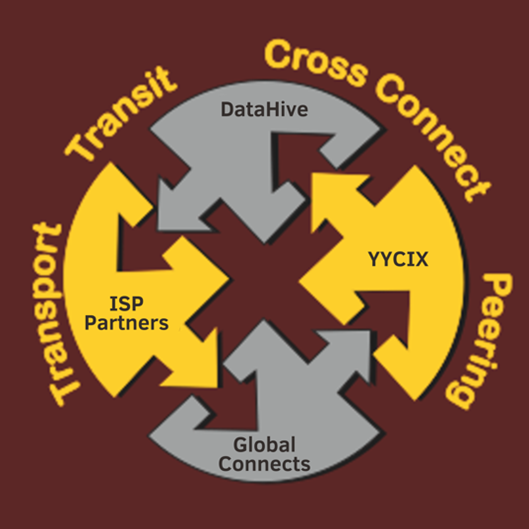 Benefit from wholesale transit, secure, fast local exchanges, and reduced latency!
YYCIX Benefits:
Reduced bandwidth costs
More bandwidth becomes available
Fewer hops reduces latency by 10 times
Improved quality of service
Lower Latency (paramount for VOIP and real time data transfer)
Benefits all internet users not just the peers
Keeps local traffic local
DataHive Benefits:
Multiple ports as required
Over thirty agnostic ISPs
On-site colocation
Available VLANs
24 x 7 x 365 technical support
Secure, reliable, and scalable
Vendor neutral
All managed cross-connects
See Also: Internet Exchange Point (IXP) at DataHive
See Also: ISP Contacts